joris vanvinckenroye / basta / aranis
Belgian ensemble Aranis is lead by composer and bass player Joris Vanvinckenroye. The band mixes classical music, rock, jazz and folk into a typical, recognisable sound.
July 2014, the ensemble performed at Zappanale where Pierre Chevalier played a Zappa medley on piano during the set.
1
aranis: aranis
(2005, cd, bel, private release / lowlands)

2
aranis: aranis II
(2007, cd, bel, private release / lowlands)

aranis: hidden soundscapes
(2007, cd, bel, jeugd en muziek)
aranis: aranis
(2008), lp, bel, private release / lowlands) = sampler
basta: cycles
(2009, cd, bel, homerecords) = joris vanvinckenroye
3
aranis: songs from mirage
(2009, cd, bel, homerecords)
4
aranis: roqueforte
(2010, cd, bel, homerecords)
5
aranis: made in belgium
(2012, cd, bel, homerecords)
joris vanvinckenroye: in rood
(2013, cd, bel, belfius)

6

aranis: made in belgium II
(2014, cd, bel, homerecords) - feat. pierre vervloesem

7

aranis: smells like aranis
(2017, cd, bel, homerecords)
Aranis at Zappanale, 2014 07 18
picture by Javier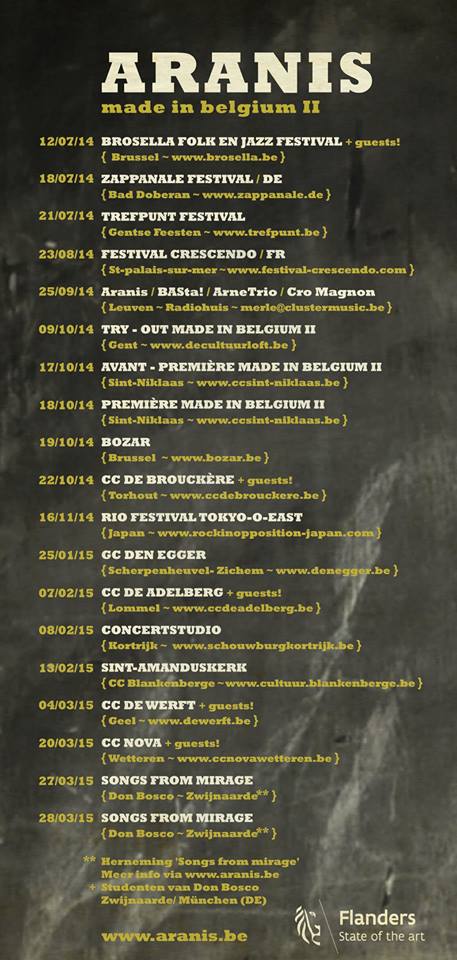 ---