bill saunders

William 'Bill' Saunders is one of the co-founders of the Ideat Village festival, a free, independent Art & Music Festival that is held in New Haven, CT, every year.

Bill also paints (and uses the pseudonym Volonte Morceaux) and he is the frontman of Doctor Dark, the Captain Beefheart coverband.


Doctor Dark at Zappanale 2005 : Bill Saunders and Joe Nolan
random notes
2012 07 --- As Doctor Dark is coming to Bad Doberan to perform at Zappanale, I thought I'd pop him some questions...
UniMuta: Hi Bill, last time you mentioned that you are one of the people behind the Ideat Village festival in New Haven. I took a look at the program, and it looks like fun. Can you tell us what the festival is about?
Bill Saunders: In order to answer that, I need to give you a little local background....
Here in New Haven, (the supposed 'Arts Capital' of Connecticut), we have this very costly INTERNATIONAL FESTIVAL OF ARTS AND IDEAS, which started in 1996. Like many creative 'non-profits', this festival enjoyed early successes, but after the 'visionaries' left the organization, there was a steady decline in quality of performance, attendance, and opportunities for local performers. In 2002, a new Executive Director was hired from Scotland, who had the bright idea that she was going to 'jump start' a fringe festival, just like the one in Edinborough, where the disenfranchised artists 'rose up' against the establishment. Upon hearing this preposterous proposal, our reaction was "The Establishment can't DO this. Isn't that the whole point?" Once the schedule was released for their ordained fringe festival, (called "The Edge"), their failure was apparent. There were virtually no local performers that i knew, and I know tons of artists and performers....
so.....
on June 21st, 2002 the first Ideat Village premiered to the rave reviews of local artists and musicians, and to the consternation of the recognized 'Art Establishment'.
Ideat Village is produced each year entirely on small independent donations and community goodwill; the festival is run by artists, for artists and the community. Over the past ten years, Ideat Village has grown from a three-day 'fringe' event, to a free-wheeling extravaganza that features fifteen days of ORBIT ( the Ideat Village Open Art Gallery), participatory public art and pop culture spoofs like Project Walkway, American Ideat and Iron Painter, as well as tons Live Local Music, Film, Poetry, Parades, Skateboarding, Vendors, Street Art, and Pie Fights. Our entire budget for Ideat Village is around $3000. The budget for the well-funded Arts and Ideas Festival is $3 Million. Just goes to show that glossy brochures, misleading marketing strategies, and over-paid administrators cannot make up for passion and community. OH NO! The anarchists are at it again.......
or facebook....
http://www.facebook.com/pages/Ideat-Village/106699512703174
UniMuta: If my info is correct, you performed with the Old Farts At Play at the festival in 2002, performing the music of Captain Beefheart. And this was the band that turned into Doctor Dark?
Bill Saunders: The first act at the first Ideat Village was the last performance of my 'cross-dressing' alter-ego, Little Miss Mess-Up. Two days later, I re-emerged on stage with a Beefheart tribute, what was then called "The Old Farts at Play".
Like Ideat Village, we never expected it to last beyond that one show. Well.......
An interesting sidenote, when I first picked up a guitar, and started writing music in 1997, I recorded version of "The Dust Blows Forward and The Dust Blows Back", along with my 'theme song' "Little Miss Mess-up", while figuring out how to sing after JUST picking up a guitar. It is one of the reasons I had an inkling I could do 'the voice' It is on an old cassette tape somewhere maybe.
For whatever ever, these twins have been conjoined for a long time..... It seems like I am always walking through one door and out another....
UniMuta: Doctor Dark has done quite a number of shows in the New Haven area. , but you also played at The Knitting Factory in New York City, and you have performed at Zappanale twice. The first time in 2003, and the second time in 2005. Can you share some of your recollections?
Bill Saunders: My biggest memory in 2003, was the fifteen minute roaring ovation we received after leaving stage, with no time for an encore. Sitting backstage, hanging out with Prawns with Horns, the crowd's hysteria was like nothing I have ever heard. I had a very difficult time understanding that that roar was for US! Napoleon Murphy Brock came up to me and shook my hand, and expressed is amazement that I pulled it off. So many musicians have been supportive of this project -- Jimmy Carl Black, Ike Willis, Eugene Chadbourne, Mike Kenneally..... and the list continues to grow fins.
UniMuta: The band took a break from 2006 to 2011. I've seen a picture of a painting of Don Van Vliet that you did in that period (it's up at your entry in the United Mutations Archives). It looks pretty impressive. I know that you have done more paintings (using Volonte Morceaux as an alias), and I'd love to see them. Have you done an expo already? Or is there a website?
Bill Saunders: The portrait of Don was started a few days after he had passed, and completed in late January 2011.
I would consider that painting as one created by Bill Saunders, not some alter-ego. After I had completed the 'Volonte Morceaux' series "Forces de Nature", (which consist of a complicated enmeshed narrative through 11 large paintings), I needed a break from the narrative work, as it is extremely consuming for the subconscious. So, lately I have been doing some portraits.....
"Captain Beefheart" by Bill Saunders
But as for the Morceaux series, the characters in the paintings are all based on characters from the 1931 Todd Browning movie "Freaks", (who also directed the original Dracula). Browning's career was ruined by this film, because he cast real sideshow freaks for the movie. People felt he was exploiting the handicapped. But in reality, when you look at the biographies of these 'Freaks', you will find they led productive and profitable careers, despite their disabilities..
So, in this series, the characters are re-imagined in post-apocalyptic world, where their adaptability is a strength, and not a weakness. Each painting is in French, like those old posters, with bad french titles, and worse english translations. Each painting also features a well-rendered animal that is adapted to his immediate environment, and some strange emerging mutation. The series brings into question our origins as the most destructive species on the planet, and there is plenty of folklore, mythology, cosmology, genealogy, and pseudo-science to keep the mind buzzing.....
The website is down right now, and honestly, I do not know if I will have the time to get it up and running before I leave for Zappanale, but here is the link: www.galleryfreak.us.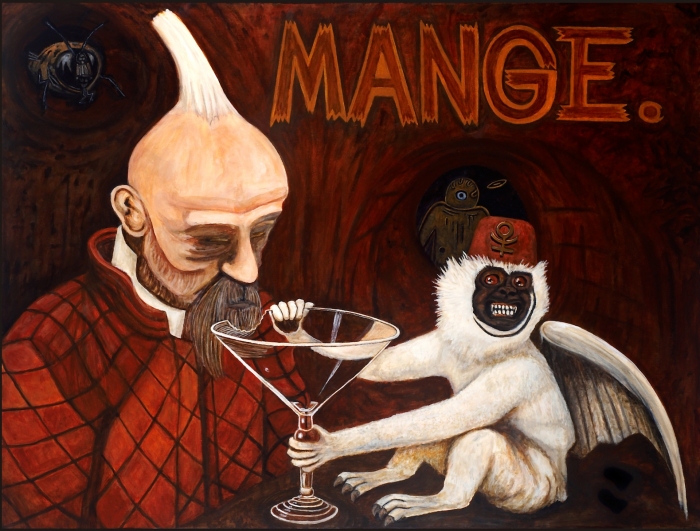 "Extremitie Demain" (The End of Man) by Volonte Morceaux, Acrylic on Canvas, 2009, 36" x 48"
UniMuta: I was very glad when I heard that Doctor Dark had reformed. Who's in the band? Have you done gigs already, and how did it go?
Bill Saunders: We have been working really hard, despite some pretty major setbacks. We lost our replacement guitar player for Travis in February due to time commitments. Joe Nolan got into a car accident around the same time and hurt his hand pretty badly. However, things have worked out, and we have a very strong set of material, featuring predominantly music from the first Magic Band incarnations (1965-1972).
Original members Steve Chillemi and Joe Nolan are back on drums and guitar.
The new members have played with me before, back when Eric Slick was my drummer. They are Will Ianuzzi on Bass, and Chris Cretella on Guitar. Chris is a recent graduate of the New England Conservatory of Music, and has been instrumental in deciphering alot of the difficult Trout Mask and Lick My Decals material. Will is an awesome player, who I have worked with on several projects.
We played out for the first time earlier in the month, two days after my arrest. It was a great set, but with spotty sound (the vocals were too buried in the mix).
We have been recording over the last couple of days, and I am very impressed with the results. Hope you and the fans are too.......
UniMuta: Yes, I heard that you got arrested for organising a punk rock concert... I'm glad that you're OK.
The Zappa Family Trust released the original "Bat Chain Puller" last month. It sounds great, and it, again, shows the genius of Don Van Vliet. The Zappanale festival has a fine dose of Beefheart music scheduled as well with Doctor Dark, with Gary Lucas, and with Fast 'n Bulbous. Have you seen the line-up for the next Zappanale? Are there concerts that you want to see? Things that you look forward to?
Bill Saunders: I first heard that version of the record from a bootleg Nancy got at the first Zappanale. It is interesting that some of those songs didn't see the light of day until 1982's "Ice Cream for Crow".
1001 and Tenth Day of the Human Totem Pole and Brick Bats are still two of my favorites....
What am I looking forward to the most??? Sharing the stage with Gary Lucas, and blowing some minds......
UniMuta: I'm really looking forward to another Doctor Dark concert, and you can be sure that I'm not the only one. Thanks for the interview and I'll be seeing you very soon.
Bill Saunders: Not if I see you first!!!!!
---
---
---