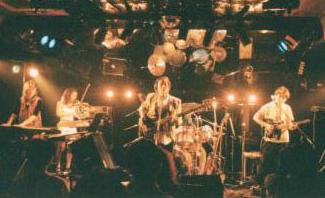 azoth
the photo: azoth live - guest musicians k. tanaka (moog) and junko minobe (violin), plus regular members chikato ohki (vocal, bass) and masayuki adchi (guitar). not visible are kazuhiro fujiwara (drums) and seiji kumamoto (keyboards) plus guest vocalist lisa ohki.
the name azoth is a word from alchemy. it is derived from the biblical phrase "from alpha to omega" ... "a" is the first letter of the alphabet, and "z", "o," th" are the final letters of the latin, greek, and hebrew alphabets. the things you can discover while researching prog rock ...
performances feature guest musicians junko minobe (cinderella search, un known) on violin and keyboards, vocalist lisa ohki (pageant, mr. sirius, and also the sister of azoth bassist chikato ohki) and synth player in addition to the four regular members of azoth.
in the early ninetees, on their 5th demo tape, azoth recorded a frank zappa & steve vai cover. two years later (& on request), these recordings were made available again as a limited promotional release.
early 2000 the band released a promotional cdr that also included zappa's "the black page" and their web-site also offered another version of the same track.
---