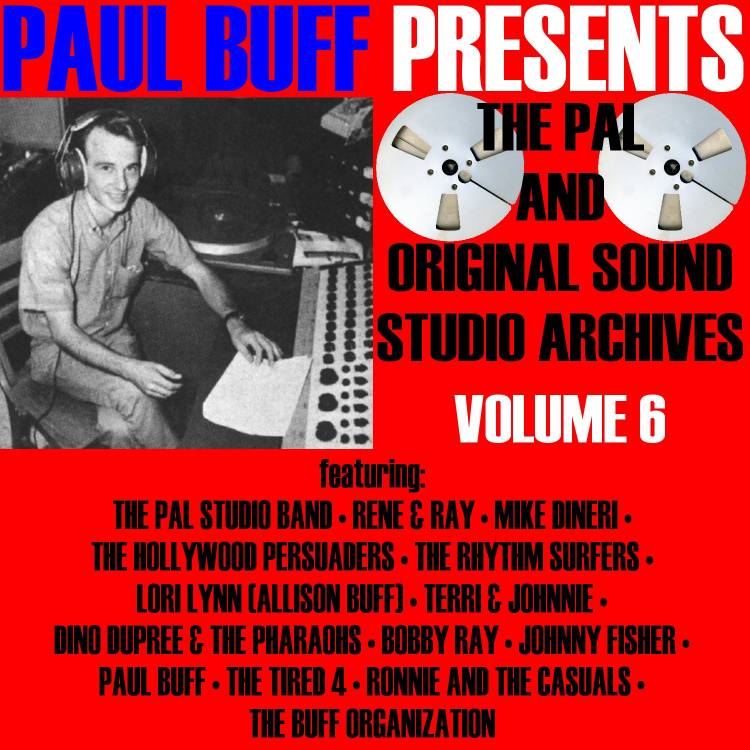 (2010, download, - , crossfire publications)
(2011, flash-drive, usa, crossfire publications)
paul buff presents the pal and original sound studio archives, vol.6
| | | | |
| --- | --- | --- | --- |
| 2010 | download | - | crossfire publications |
re-releases
(2011, flash-drive, usa, crossfire publications) = the complete 35 album series, with bonus liner notes on pdf and 56 extra tracks
various tracks recorded by
http://cdbaby.com/cd/paulbuffpresents
liner notes by Greg Russo:
Welcome to Volume 6 of Paul Buff's 20-volume series of recordings from Pal Studios and Original Sound Studios! Pal Records was a record company run by his mother Olivia and stepfather Ward Allen. After Paul Buff was honorably discharged from the military, he finished putting together Pal Studios in December 1957. The studio costs were $12.50/hour for mono recording and $15/hour for stereo. Local musicians booked the studio to make recordings of their rehearsals and repertoire. When Pal Records wound itself down in mid-1959, Paul Buff created his first record label - Emmy. Other labels (Plaza, Yukon and Vigah!) would follow shortly thereafter. The music presented on this series was released on extremely rare records that would literally cost thousands if you can them. In addition, there are many unreleased tracks spanning from 1960 to 1969. Paul Buff is now making them available again for everyone to appreciate.
Our first track is The Pal Studio Band's "Waltz." Written by Frank Zappa and transferred from an acetate, "Waltz" shows Frank experimenting with some guitar phrasing over a moving rhythm track. There are some occasional rough spots, but this is yet another unheard tune from 1963.
Rene & Ray's "Do What You Feel" was the B-side of "Queen Of My Heart." They made sure to mention all the dances of the time! Mike Dineri cut "Saxville" during the same five-track session in 1962. "Saxville" is in the style of Boots Randolph, but it's a Dineri track all the way.
Next up is the familiar single mix of The Hollywood Persuaders' "Grunion Run." The "Drums A-Go-Go" album features alternate stereo and mono mixes of this tune with searing Zappa guitar solos. It's an early FZ triumph! Speaking of Zappa, he co-produced The Rhythm Surfers' "Big City Surfer" with Dave Aerni for the latter's Daytone label.
Allison Buff, as Lori Lynn, cut an acetate of her husband Paul's song "Heart Stealer" in 1964. Since the track only exists this way, we've done our best to make it as presentable as possible! Terri & Johnnie coupled their version of "Your Tender Lips" by the original song "I Miss You So." Clearly, these two were (and are) a great couple - personally and vocally.
Dino Dupree cut "Jive 'N" at the same session as "Chaser" from the previous volume, and it's another stellar Dino guitar showcase. One of Bobby Ray's most powerful vocal performances was on his "Three Months," the story of a student's freedom during summer vacation. The full studio session has Bobby Ray saying at the beginning, "I'm finally coming to (life)!"
The single mix of Johnny Fisher's "Dream Tonight" is next. It was the flipside of his "Tell Me Yes" from 1960. Two experimental stereo mixes of "Dream Tonight" will appear later in the series.
An early Hollywood Persuaders track, "Evil Underneath," appears in the first of its two versions on this volume. Unusual for a Hollywood Persuaders recording, piano is the main instrument. Also featuring a prominent piano with guitar, Paul Buff's "Bolero Death Song" was an early experiment. The unreleased Hollywood Persuaders cut "Rollin'" was a more rhythm based number using everyone's favorite - the 1-4-5!
The Tired 4's strange take of "The Stripper" showed that Paul Buff always wanted to experiment and that nothing was sacred! Neither was "Got My Mojo Working" and "Mojo Workout," which Ronnie And The Casuals turned into "Moe Joe." The group (as Ronnie And The Pomona Casuals) went on to record a couple singles and an album for Donna.
"North Beach" was one of Paul Buff's best melodic Hollywood Persuaders instrumentals. Like "Romance Theme," it's a wonder why more people did not cover it. The second version of The Buff Organization's "Studio 'A'" follows, and it's one of many variations that the song went through before its final single version. Check out The Buff Organization's albums for more of this song and lots of other prime '60s tracks.
Early '60s songs frequently mentioned names of girls, and Paul Buff's "Darling Diane" was a typical example. It's a simple piano/vocal number with the familiar Pal piano sound that closes out this volume nicely.