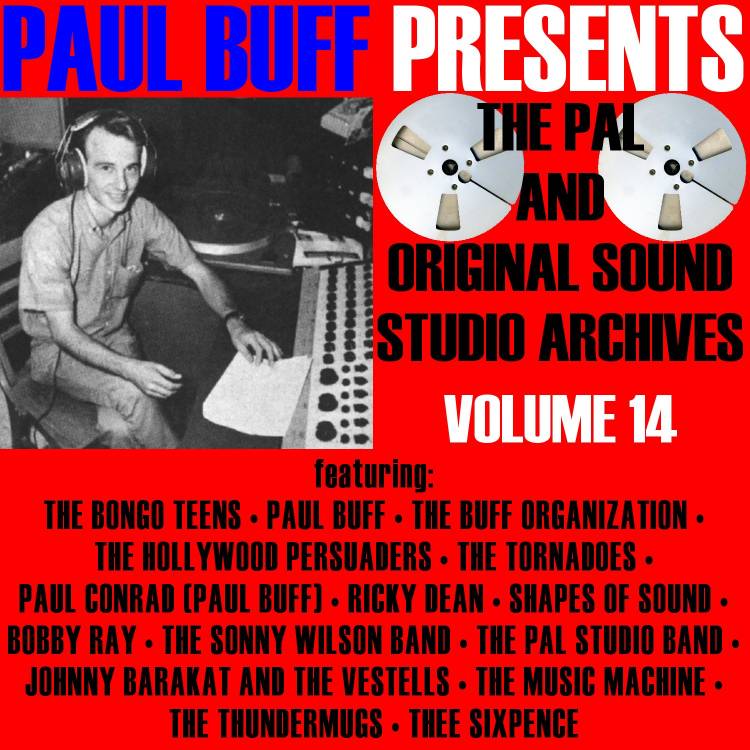 (2010, download, - , crossfire publications)
(2011, flash-drive, usa, crossfire publications)
paul buff presents the pal and original sound studio archives, vol.14
- feat.contributions by frank zappa
| | | | |
| --- | --- | --- | --- |
| 2010 | download | - | crossfire publications |
re-releases
(2011, flash-drive, usa, crossfire publications) = the complete 35 album series, with bonus liner notes on pdf and 56 extra tracks
various tracks recorded by
liner notes by Greg Russo
Welcome to Volume 14 of Paul Buff's 20-volume series of recordings from Pal Studios and Original Sound Studios! Pal Records was a record company run by his mother Olivia and stepfather Ward Allen. After Paul Buff was honorably discharged from the military, he finished putting together Pal Studios in December 1957. The studio costs were $12.50/hour for mono recording and $15/hour for stereo. Local musicians booked the studio to make recordings of their rehearsals and repertoire. When Pal Records wound itself down in mid-1959, Paul Buff created his first record label - Emmy. Other labels (Plaza, Yukon and Vigah!) would follow shortly thereafter. The music presented on this series was released on extremely rare records that would literally cost thousands if you can find them. In addition, there are many unreleased tracks spanning from 1960 to 1969. Paul Buff is now making them available again for everyone to appreciate.
It's time to "Wipe Out"! Yes, it's The Bongo Teens' version that appeared on the "Surfin' Bongos" album that they shared with Preston Epps. That album has been reissued in mono and stereo. Paul Buff's vocal demos "Call Me On The Telephone" and "I Will Go To The Ends Of The Earth" show that he tried many different ideas. Some of these ideas were well developed and became complete songs, but others like these two exist just in this form.
"Windows" by The Buff Organization went through a few iterations before it evolved into the song "Summer Avenue." This version of "Windows" has Paul Buff singing alone. The other versions can be heard on any of the Buff Organization albums now available. "Hollywood A-Go-Go" by The Hollywood Persuaders was clear and defined right off the bat. It was one of the best tracks on the album and it was the final A-side for this Buff venture.
During their first visit to Pal Studios in late 1962, The Tornadoes cut two tracks with Frank Zappa engineering. One was "Raw-Hide" and the other was this volume's "The Swag," and both were Link Wray staples. Roly Sanders' guitar playing on "The Swag" made his career highlight reel!
Before Paul Buff (under his Paul Conrad guise) got "Chocolate Milk" together, he did a demo version. The longer version of that demo is present and accounted for!
When you do a recording, you have to lay down a backing track. Paul Buff recorded two backing tracks for his version of Ritchie Valens' "Donna." This volume has the first one, along with the first backing track for Bobby Ray's "Encinada Way." Mono mixes for both sides of Ricky Dean's "Flowers"/ "I'll Never Love Another" single state their case here as well.
Just when you think everything is nice and comfy, we throw you a curve! Shapes Of Sound's "Twisted Conversation" was one of the most unusual and psychedelic tracks that Paul Buff ever engineered. Written and sung by Greg Munford, the song employs sped-up vocals that echo what Buff accomplished on the original version of "I'm Losing Status At The High School" with Frank Zappa and Allison Buff. Lyrically, "Twisted Conversation" is very advanced. As a single A-side, it's completely uncommercial. That's precisely why it's so brilliant! The shame is that the record may be the rarest one that Bill Holmes ever released on his All-American label, and that's really saying something. As mentioned previously, Munford is known as the vocalist for "Incense And Peppermints," and he recorded with Indescribably Delicious and other All-American acts.
Sonny Wilson's band proved that they could record some quality material at Pal without their leader, as "Guitar Workout" clearly indicates. A later volume will have another track that they recorded - "Cotton Pickin' Rock."
In the meantime, you can do some comparing and contrasting work! Compare Johnny Barakat's later, reverb-drenched version of "(Ghost) Riders In The Sky" to the unreleased version issued on Volume 11. Also, "Forget It" by Paul Buff and Dave Aerni was originally recorded by The Bongo Teens in 1963. The Hollywood Persuaders version is actually a different mix of the same take with some embellishments. Make your choices!
With Paul Buff engineering, Sean Bonniwell's original lineup of The Music Machine recorded "The People In Me" at Original Sound as the follow-up to their #15 hit "Talk Talk." Incidentally, "Talk Talk" isn't part of this series because it was recorded at RCA in Hollywood prior to the band's signing with Art Laboe's label. "The People In Me" only reached #66 as a result of radio politics, and the song was also included on their only album for the label: "(Turn On) The Music Machine." The LP managed to reach #76 on the album chart. Featured here is the slightly longer stereo album mix.
The unknown Mary Gonzales joined Ray Collins on yet another Pal Studio Band version of FZ's "Love Of My Life." Ray redid some of his vocal parts for this edition, which is another interesting variation.
Two tracks each from two All-American acts, The Thundermugs and Thee Sixpence, are up next. The Thundermugs' "Motion Tree" was the B-side of their single "Captain Midnight" (Volume 13). Jack Lutz wrote that song and "Mr. Z's Backyard." No, not THAT Mr. Z, but another one from Lutz's imagination! Sarcasm and humor reign supreme. From August 1966, Thee Sixpence's "Can't Explain" (co-written by Arthur Lee) was the B-side of their first single "Long Days Care" (Volume 12). "In The Building" was a very adventurous A-side, their third for All-American. It was released in November 1966. There was absolutely no commercial potential for such a dark sounding record, and it was compounded by two misspellings: the group was shown as The Sixpence and the B-side "Hey Joe" was shown as "Hay Joe"!
The third of many versions of The Buff Organization's "Upside Down World" follows, along with a brief Buff drum track recorded in mono and a melodic piano theme. Ah, a nice ending!